Waste & Residue
---
Logging Waste and Residue Survey software for BC
Designed for Waste and Residue Surveyors, Forest Industry, Ministry staff and private landowners.
For your handheld data collector, laptop and Personal Computer
User friendly and simple data entry
Easy electronic transfer to MOF Waste System
Volume and stumpage compilations on the fly
Crown timber and Private timber modules
Click here for information on Enfor Waste and Residue software, or call 604 984-0832.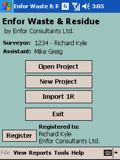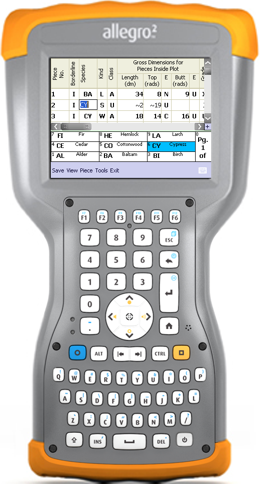 Developed and tested with industry and Ministry professionals, Enfor Waste provides a much needed long-term business solution for logging waste and residue survey data collection, compilations, reports and electronic submissions to government in British Columbia.
Software Features
Key Features of Enfor Waste include:
User-friendly
Complete logging residue and waste data collection system
Collects all field data for FS161 and FS444
Merge multiple surveyor block data
User adjustable screen format to suit your needs
Create MOF format XML file for uploading to the BC Ministry of Forests, Lands and Natural Resource Operations Waste System
Report for volume and stumpage
Piece Report
Error checking as you work - See below
On-the-fly compilations
All features available on handheld and PC
Pre-programmed with all MOF codes
Replaces old Fox Pro, Residue & Waste System 2.70 (RWS)
Interior and Coastal BC
Private land module available
Error Checking Features
Helping to save you time and money! Checks your data for completeness before you leave the field! Some error checking features include:
Incomplete piece data

Missing Species
Missing Waste Kind (log/stump/waste..)
Missing Waste Class (avoidable/unavoidable)
Missing Gross Length
Missing Gross Butt Diameter (unless stump)
Missing Gross Top Diameter

Rot volume is more than half of the gross volume
Utilization Level (by species)

Min Log Length
Min Top Diameter

Top diameter must be smaller or equal butt diameter
Length of waste must be smaller than 3 meters
Two plots required per stratum
Sum Stratum Area = Block Area
Each cutblock must have at least one timbermark
Purchasing and More Information
Thankyou for your interest. For more information or a demonstration, please call Richard Kyle at (604) 984-0832, or contact us to see how we can help meet your needs.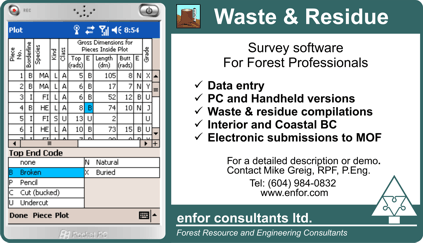 Links
Logging Residue and Waste Links in British Columbia:
Articles