Private Woodland Planner
---
Introduction
Private Woodland Planner (PWP) was developed to assist small woodland managers assess the timber and non-timber forest product values of their land. PWP version 2.0 updates were completed with the support of FORREX Forest Research Extension Partnership, funded by the Forest Investment Account.
Developed for the small woodland manager, some of the key features of PWP are:
User friendly, informative
Estimate timber forest products volumes and values
Estimate non-timber forest products
Estimate value of timber growth potential
Estimate CO2 uptake of your forest (carbon sequestering)
Assess silviculture investments
Use your values and costs or the default values built in
For use anywhere in BC, Canada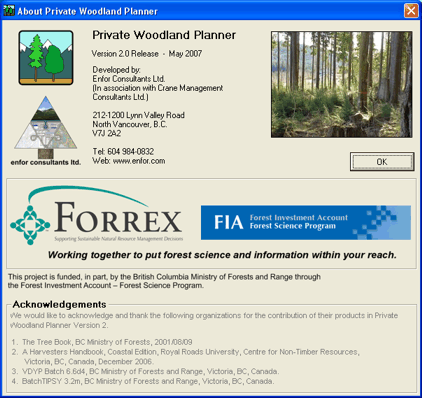 Download & Registration
PWP is available at no cost. Simply:
Links
Here are some useful links that are found in PWP 2007.
More Information
Thankyou for your interest in PWP. Please contact FORREX Forest Research Extension Partnership or BC Small Woodland Partnership Outreach if you have any questions on the use of Private Woodland Planner version 2. Periodic updates to PWP may also be available from this website.

PWP was developed by Enfor Consultants Ltd., forest management consultants and forest software developers. For more information about Enfor, please call Mike Greig or Richard Kyle at (604) 984-0832, or contact us to see how we can help meet your needs.