District Energy
---
District Energy Solutions.
District Energy systems are cost effective solutions for meeting heat and power needs, particularly well suited to communities in BC and Canada. Enfor is available to help you evaluate energy needs and assess the feasibility of District Heating.
A form of combined heat and power (CHP) system, district energy improves the energy efficiency by utilizing the heat as well as electricity. It can reduce GHG emissions and be used at various scales in communities, from neighbourhoods to clusters of commercial and industrial buildings. When heat is extracted as well as power, an additional 40%+ of the energy that is otherwise lost to the stack can be utilized, resulting in a substantial cost savings and energy efficiencies.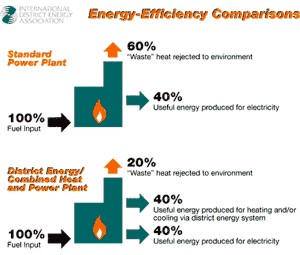 The basic feature of a district heat and power system is a reciprocating engine or gas turbine which drives electricity generators, connected to a heat recovery unit where the steam or hot water generated in the process can be used for space heating or utilised in industrial processes. Steam or hot water is then pumped to the district of buildings. Where heat only is required, a district heating system will include a boiler system to generate hot water or steam, a pumping system and a pipe loop to send the steam or hot water to the receiving buildings in the district. Classic industrial examples of CHP systems in BC include sawmills and pulpmills.
District heating systems are used to produce and distribute heat only to a community or cluster of buildings, usually where it is not cost effective to generate electricity as well as heat. Some examples of distict heating systems in BC include Dockside Green (Victoria), Revelstoke, City of Vancouver, City of North Vancouver, and UBC.
Where biomass is in abundent supply, biomass district energy systems can further reduce GHG emissions by using the carbon neutral fuel. This greener alternative is widely used in Europe. Some examples of biomass district energy systems in BC include Dockside Green (Victoria) and Revelstoke. It has been chosen as the system of choice in a new development area in the city of Richmond, is the preferred system for the south east false creek area of Vancouver, and is a consideration now for most new community energy systems.
Key features of a good quality district energy system include:
Variety of scales - small and large communities or clusters of buildings
Improved efficiency
Reduced GHG emissions
Good return on investment
Potential to sell excess electricity
Heat, power and cooling at greatly reduced cost
District energy has great potential in our communities of British Columbia and Canada. This is especially true for communities off-grid that must rely on deisel generators. It is particularly well suited to BC given the vast abundance of the wood biomass resource, reducing GHG emissions and reducing reliance on fossil fuels.
Part of the potential lies in the fact that it can be future-proofed. While natural gas is most commonly used in district energy systems, this is a fossil fuel source which contributes to greenhouse gases. Biomass-fired district energy is proven to be feasible and carbon neutral, with co-firing by natural gas for back up purposes. In the future when waste incineration technologies become more effective, district energy systems can be converted to utilise them. For more information on biomass CHP systems (source US EPA, 2007), please click here.
We're committed to deliver you a successful energy project. Please feel free to contact us to see how we can help meet your needs.